Capacitor device (CD) is designed for reactive power automatic compensation in 380 (415) V (0.4 kV) low-voltage circuits to increase power factor of electric installations and distribution networks, to compensate phase shift in electric network caused by inductive loads (electric motors, transformers, chokes, etc.).
CDs are produced from high-quality components. Elaborate design provides high density of installation and perfect serviceability.
Devices can be adopted for portable and fixed applications.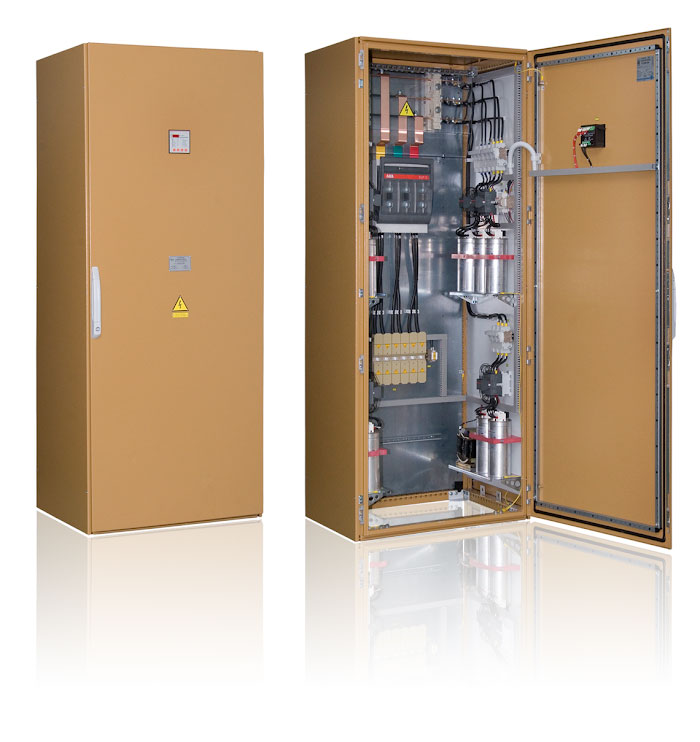 Technical characteristics
| | | |
| --- | --- | --- |
| Description | Unit | Value |
| AC rated voltage (50- 60 Hz) | V | 380 (415) |
| Plant capacity | kVAr | 25...600 |
| Power of minimum step | kVAr | 2.5...50 |
| Number of control steps | - | 5… 12 |
| Power factor control range | - | 0.8 of inductive - 0.8 of capacitive |
| Protection level | - | ІР 43 |
Overall dimensions of capacitor device
| | |
| --- | --- |
| Rated power, kVAr | Value |
| 25...40 | 600 х 400 х 1000 |
| 45...80 | 600 х 400 х 1200 |
| 90...150 | 600 х 600 х 2000 |
| 160...360 | 800 х 600 х 2000 |
| 400...600 | 1200 х 600 х 2000 |