DC Switchgears 600...3300 V. Main Components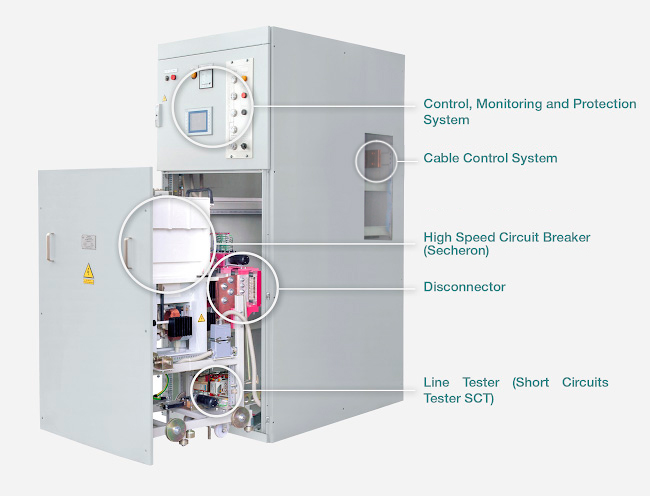 High Speed Circuit Breaker (Secheron)




As a rule high speed circuit breakers applied in DC Switchgear are manufactured by Secheron (Switzerland). Circuit breakers of this type have high breaking capacity and dynamic stability to short circuit currents.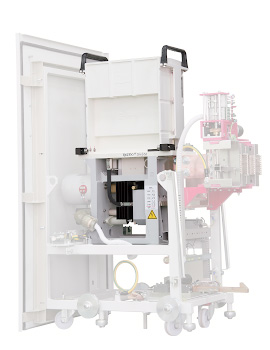 Main advantages of high speed circuit breakers:
Mechanical simplicity;
Automatic setting of contact tightness;
Long lifetime (3000 short circuit currents disconnections before contacts replacement);
Inspection after 250 protection operations;
Insulation material wiping under arc;
Precise regulation of trip setting;
Compliance of all insulation materials with strict European environmental standards requirements;
Minimum tripping time;
No need for often lubrication, adjustment, maintenance for a long time;
No need for periodic calibration;
High mechanical resistance - 8х25000 cycles

.
Disconnector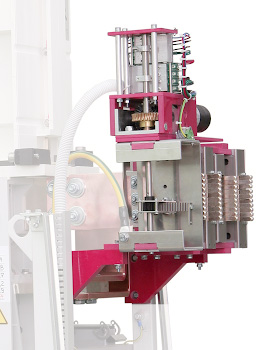 Disconnectors have a unique crimp-type contact system design with double gap and wiping contacts, geared by a small-sized servo drive. Ease of trolley with double-pole EDT disconnector withdrawal is achieved by original design of the disconnector. Each pole has two rows of fingers that in original (opened) condition are set so that the connected busbars enter the gap between fingers easily without mechanical resistance. Further, servo drive brings the fingers together to busbar, crimping the busbar with great force.
Main advantages:
Crimp-type;
Wiping contacts;
Long time without maintenance;
Silent economic electric drive;
High electrodynamic resistance.
Control, Monitoring and Protection System
Switchgears are equipped with control, monitoring and protection system, which includes:
1) industrial controller Х20,
2) traction network monitoring and protection system SMTN-3,
3) visualization power panel РР65.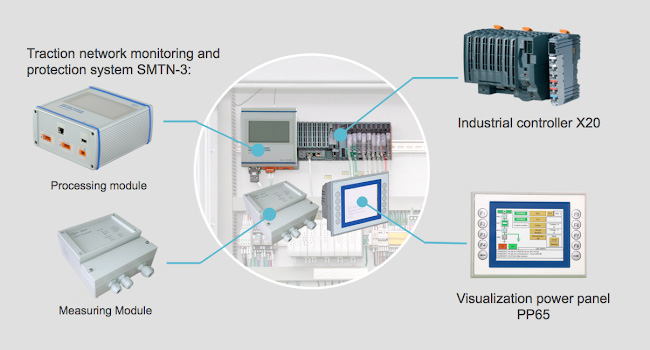 Complete automation of cubicle and traction substation control;
Cubicle and traction substation equipment condition monitoring with equipment self-diagnostics function;
Cubicle events logging at traction substation;
Data transfer to SCADA;
Traction network protection with present day microprocessor system SMTN-3

.
Traction network protection is provided by continuous control and analysis of traction network current and voltage dynamics history with issuing commands to open DC switchgear high speed circuit breaker in case of protection functions set parameters exceed. Implementation of all protections is based on amplitude-time analysis of protected device voltage and current values.
Types of electronic protections (ANSI code):
• instantaneous overcurrent (50);
• overcurrent protection (76);
• current rate of rise protection;
• current increment directional protection;
• overvoltage protection (59);
• under-voltage protection (27);
• thermal protection (49);
• breaker failure (BF).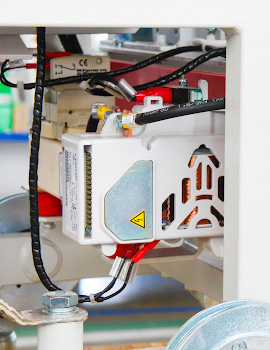 Line Tester (Short Circuits Tester SCT)
Line resistance measurement;
High speed circuit breaker tripping interlock.
Cable Control System
Resistance measurement range of external cable insulation 50 - 500 kOm; of internal cable insulation 200 - 2000 kOm;
Operating line power supply;
3 pairs of discrete failure signals;
Galvanic isolation from processing module (SMTN-3 system) by means of optic fiber.