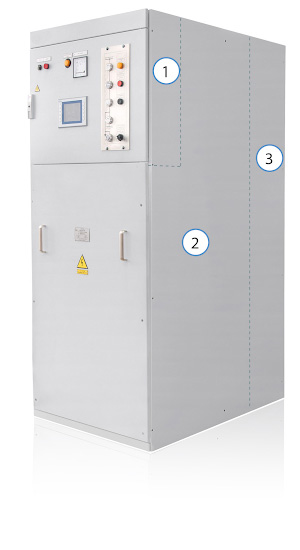 ▲
DC Switchgears 600 V, 750 V, 825 V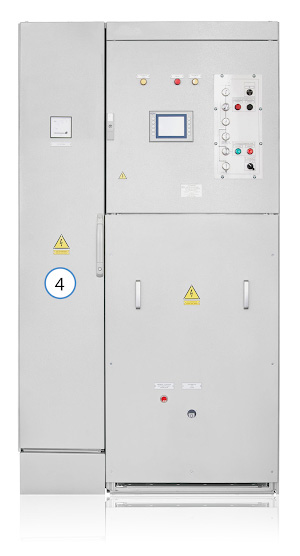 ▲
DC Switchgears 1500 V, 1650 V, 3000 V and 3300 V
Switchgear components are mounted in separate compartments.
High and low voltage compartments are separated from each other, which ensures operation reliability, equipment servicing and operational safety.
1. Automatics and Control Compartment:
industrial controller manufactured by Bernecker & Rainer (Austria),
traction network monitoring and protection system SMTN-3,
visualization power panel РР65,
control modules,
contactor relays.
2. High Speed Circuit Breaker Compartment:
DC high speed circuit breaker;
operating busbar double-pole disconnector,
earthing switch,
line tester (short circuits tester SCT).
3. Power Busbars and Cables Compartment:
operating and output busbars,
earthing busbar,
power cables mounting frame,
cables control system.
The following is also installed in the compartment depending on the purpose and type of DC switchgear:
power circuit shunt,
power circuit current and voltage control components,
retractable trolley servo drive,
electromagnetic interlockings actuators,
reserve busbar.
4. Disconnectors Control Compartment (in DC Switchgears 1500 V, 1650 V, 3000 V and 3300 V):
Protection device against remote short-circuits and secondary circuits output terminal is installed in disconnectors control compartment.
Negative Switchgear Design
The Negative Switchgears are individual metal cabinets of unilateral maintenance. Installation in a row is provided. Switching devices hand controls are located on the door. Disconnectors can be manually operated with the use of hand-held actuator.