Switchgear NEX. Main Components
Evolis Vacuum Circuit-Breaker
Evolis circuit-breaker is used to protect and control MV public or industrial distribution network.
Technical parameters of Evolis circuit-breaker:
Rated voltage 6, 10 kV.
Short circuit breaking capacity up to 31.5 kA.
Rated current from 630 A to 2500 A.
Axial magnetic field (AMF) breaking technology.
Withdrawable version.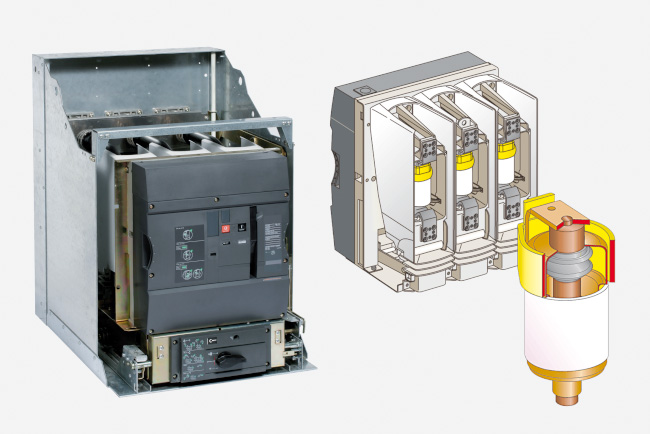 Special configuration of working contacts in circuit-breaker vacuum chambers and arc movement during its "blowout" provide maximum possible in this type of circuit-breakers "softness" of arc blowout even at high current values.
The advantages of this technique are:
a very compact working contacts and vacuum chambers;
"softness" of arc blowout.
Evolis is in conformity with the highest electrical endurance class (IEC 62271-100: class E2).
Evolis is in conformity with the most demanding mechanical endurance class (IEC 62271-100: class M2).
NEX protection against internal arc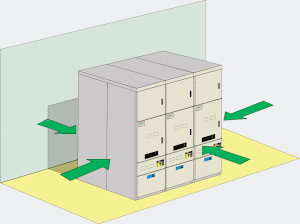 NEX cubicles are designed to withstand and protect operators in the case of failure due to an internal arc. Optionally internal arc detector – electronic unit with optical sensor can be installed in NEX cubicle. Optical sensors measure the light caused by the initiation of arcing in NEX cubicle. Based on this information, an electronic module, after processing the information, will give the opening order to the circuit-breaker.
In the case of a NEX switchboard installed in the middle of a room, internal arc protection on 4 sides is provided in order to protect maintenance personnel.
Control and protection units in NEX
The most effective control and protection system are applied in NEX cubicles providing easy NEX integration into substations automatic control system.
Each NEX functional unit can be equipped with a comprehensive protection, monitoring and control system comprising:
instrument transformers to measure the necessary electrical values (phase current, residual current, voltages, etc.);
protection relays, providing functions adapted to the part of the network to be protected;
metering equipment, to inform operators;
different additional auxiliary units: secondary circuit test units, etc.
Relay Protection and Control Unit Sepam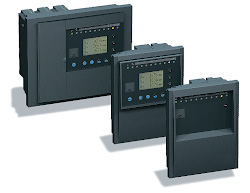 Sepam is at the centre of the protection, monitoring and control system for NEX functional units: all the necessary protection, metering, control, monitoring and signalling functions are carried out by Sepam. Digital relay protection units Sepam series 20, 40, 80 are designed with regards to the world experience in the field of electric circuits protection.
Sepam units, series 20, 40 and 80 perform all necessary functions:
effective protection of people and property;
accurate measurements and detailed diagnosis;
control of power switching units;
monitoring and display of power switching units status;
information exchange with central control system through communication network.
Power Meter and Circuit Monitor metering units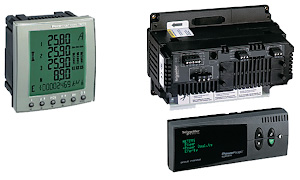 PowerLogic metering unit replaces a full complement of basic analog meters for the selected cubicle type. This cost effective, high performance PowerLogic meter provides a full complement of accurate true-rms metering values.
The PowerLogic series 3000/4000 Circuit Monitor is designed for critical power users and large energy consumers, to provide the information needed to confidently enter the evolving world of deregulation. It provides necessary data to recover normal operation mode of power networks. This unit can define average cost of electric power consumed during specified period of time or in real time. Upon Customer's requirement we can install another power metering unit.