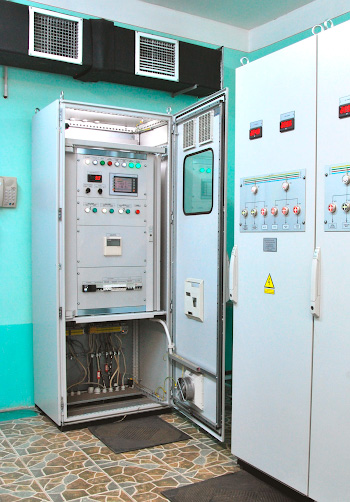 Heating ventilation and air conditioning system supports set temperature mode in the room. Additional sensors also allow to monitor gas contamination, pressure and humidity. The system is mainly integrated in electric transport traction substations to maintain climate parameters and acceptable conditions for personnel and equipment operation.
Ventilation system can be connected to the fire safety system for fans automatic disconnection and air ducts closure. That will allow isolation of fire hazard and prevention of flame propagation in case of fire in the room.
Main advantages:
improved reliability due to microprocessor control system and equipment from world-leading manufacturers.
microprocessor control system provides overload and short-circuit protection in the electrical circuits of operating mechanisms.
support of several operation modes on alternative algorithms, in case of failure or faulty operation of one of the units.
availability of software tools for adjustment and setting of equipment, and also for supervision and changing of parameters during operation.
extreme operation conditions – up to minus 50° С.
Technical characteristics:
| | | |
| --- | --- | --- |
| Description | Measuring units | Value |
| Input supply voltage (Ui) three-phase | V | 380 (415) |
| Input supply voltage (Ui) one-phase | V | 220 (240) |
| Input voltage frequency | Hz | 50 (± 2 %) |
| Protection level | - | IP 54 |
| Service life, minimum | years | 15 |
| Mean time to recovery after emergency trip, maximum | minute | 20 |